Company: Brian Gavin Diamonds
Location: United States
Industry: Retail, eCommerce
Apps implemented: CRM, Invoicing, Sales, Accounting, Inventory, Manufacturing, Purchase, Quality, PLM, Helpdesk, and Website
Company Size: 50+ Employees Odoo Users: 13 Active Users Hosting: Odoo SaaS Implementation Partner: Brainvire Infotech Inc. Implementation Timeline: 9 Months
Diamond experts
Since 2009, Brian Gavin Diamonds has established itself as one of the world's leading centers for "ideal cut" diamonds and is widely considered an expert in the field of "Hearts and Arrows" pieces.
This Houston-based company has become a premier brand known across the globe for their signature diamonds, and it's all thanks to their extensive research with Cut and Light performance. That high level of intricate craftsmanship, and passion for ideal cut diamonds, is unrivaled in this elegant industry.
This illustrious brand caters to a truly elite clientele and specializes in delivering a highly personalized experience that you won't find anywhere else. It's true. No one offers better quality (or value) than Brian Gavin Diamonds. 
Legacy system challenges

The biggest challenge for Brian Gavin Diamonds was the scattered nature of their workforce systems. The company was using multiple tools and software to accomplish various tasks and functions. They were also using a custom ERP to manage their accounts and finances. However, it wasn't a fully fledged, completely integrated enterprise ERP system, like Odoo. 
For eCommerce, they were solely dependent on Magento, along with other third-party tools that they used for additional operations. This chaotic way of functioning meant none of these systems were 'talking to each other.' In other words, this ramshackle system wasn't providing a unified view of Brian Gavin Diamonds' different business operations.
Since Brian Gavin Diamonds deals with a lot of personalization in their products, it was difficult for them to accurately track orders, payments, and customization requests with this haphazard system. With so many unique aspects going into the making of each of their products, the team at Brain Gavin Diamonds needed a more efficient system in place, in order to properly manage orders, payments, and deliveries.
Order management

'CarttoQuote' functionality is one of the ways Brain Gavin Diamonds receives orders for their products. These orders come from the leads generated from the company's websites, wherein interested parties add their requirements in the form of quotations in their virtual cart.
These quotations can be about various aspects of diamond jewelry, such as the diamond's cut, metal, setting, or other features. These leads (or quotes) are stored and prepared as orders on Odoo. Once the quote is approved in the backend by the team at Brian Gavin Diamonds, the order can be processed through the website.
The order management process can be tracked in Odoo in real-time to maintain timely deliveries and service. The order goes through different stages, such as CAD, Purchase, Manufacturing, Assembly, Quality Control, Photography, etc.
Purchase management

Brian Gavin Diamonds can also fully automate their purchase workflow with Odoo ERP, as well. Procurement rules based on stock levels, logistic rules, sales orders, projected manufacturing orders, and other factors will help improve their purchasing and inventory efficiency. Depending on the production and distribution strategies for each product, they can choose different replenishment methods to fit their needs.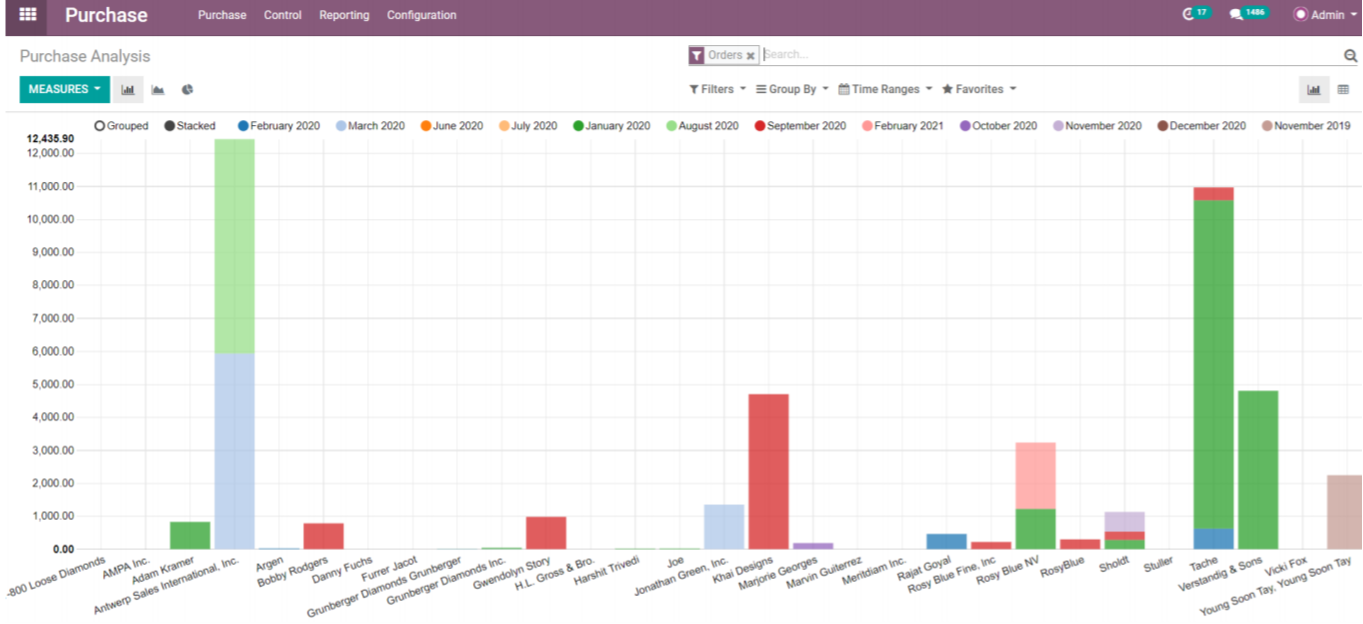 They can import pricelists and references from manufacturers quickly (and easily) to make better purchasing choices based on discounts, quantities, and special contract conditions. From inside the app, they can keep track of a product's availability in their supplier's stock and check the status of the order. They can also set the purchase price based on the prices of the supplier.
Commission management for salespeople

Brian Gavin Diamonds offers commissions to their dedicated salespeople for generating sales and completing a certain amount of orders.

The commissions are based on number of sales, with the seniority of the salesperson coming into play, as well. The entire commission model has been formulated in a specific dashboard in the Odoo ERP.
CRM

With Odoo CRM, Brian Gavin Diamonds can now make more informed decisions by using actionable data. They can acquire all the information they need to make better choices, thanks to Odoo's intuitive, integrated design.
Odoo CRM also allows them to create custom dashboards to get a quick overview of the entire market.
The team at Brian Gavin Diamonds can now further their industry analysis with real-time reports and flowcharts that everyone can make and share. Calls, meetings, mailings, and quotes will all be scheduled according to the sales scripts.
Brian Gavin Diamonds can now stay connected to customers, and use real-time messaging to enhance collaboration. A quick overview of the team can show users when a colleague logs a call, or sends a quote. Sharing ideas and files in real-time, and catching up on things missed when field agents are away, is now easier than ever before, thanks to Odoo.
Manufacturing

Accurate delivery propositions help Brian Gavin Diamonds optimize inventory levels.
To ability to automate their procurements, make-to-order rules, minimum stock rules, and the master production plan, allows them to streamline manufacturing operations like never before. To maximize inventory levels and prevent shortages, they use routes, restrictions, and lead times.
The team at Brian Gavin Diamonds uses job orders to groups orders, based on their similarities. Similarities can be the type of metal, gemstone, cut, or color. For each customized order they receive, they group those orders in the Odoo backend.
For example, if they have multiple orders for 18-carat gold products, they group such manufacturing orders together based on that similarity. This way, they can understand how much metal they will require to complete those orders.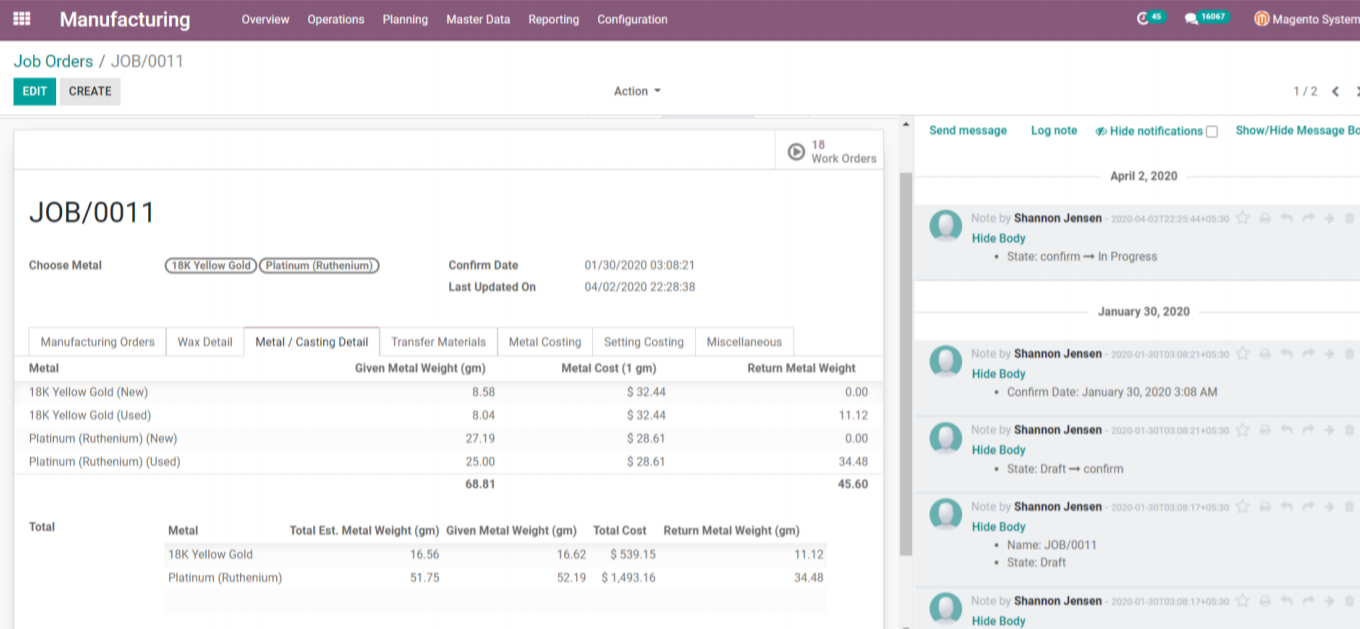 Manufacturing

When it comes to manufacturing orders, it's common that designers may not use all the metal that was purchased. For example, for a 24-carat gold ring, Brian Gavin Diamonds purchased 10g of gold, but only used 8g in the manufacturing process. In that case, the leftover metal would be returned back to the inventory, ensuring that no material or resource ever gets wasted.
Dynamic reports on costing, traceability, performance analysis, OEE, and other topics help them make better business decisions, as well.
Returns management

Seeing as how Brian Gavin Diamonds deals with a lot of customizations and personalizations in their jewelry, they often face multiple requests for returns, upgrades, repairs, and exchanges. 
The RMA process deals with these changes from the customer's end, as part of their after-sales services. If a customer requests repairs, a return, or a replacement for their already purchased items (for reasons, such as resizing, metal change, etc.), then such requests are added and managed through the RMA process.
The status of each order (whether in the repair stage or for return) is tracked and delivered through a comprehensive dashboard that details every piece of information about the products, and the changes required.
Third-party integrations

The Odoo ERP is equipped with useful third-party integrations (and tools) that fulfill various functions pertaining to daily business activities. 
For instance, they use TaxJar for tax calculations. TaxJar enables businesses to identify and calculate their sales taxes efficiently. ParcelPro handles shipping, and offers integrations with FedEx and UPS.
Brinks is another external integration that was added to Brian Gavin Diamonds' Odoo system. Since the company deals with jewelry, they need different kinds of precious metals and gemstones to craft each piece. Brinks provides secure logistics solutions for the shipment of these valuable products. 
For marketing automation, Brian Gavin Diamonds relies on Listrak. Listrak delivers seamless, personalized cross-channel interactions — all from one integrated platform. It is an integrated digital marketing platform for email, text message marketing, identity resolution, behavioral triggers, and cross-channel orchestration.
RapNet is the world's largest (and most trusted) diamond and jewelry trading network, delivering the best available diamonds and fine jewelry, prices, people, and market intelligence for buyers, dealers, and diamond manufacturers worldwide. Brian Gavin Diamonds uses RapNet to find and sell quality diamonds.
Detailed analysis

Brainvire's Odoo development team also created various kinds of custom reports for Brian Gavin Diamonds. Some of these reports were native to Odoo, while others had to be specifically developed, according to the client's unique business requirements. 
Brian Gavin Diamonds manages a large catalog of different kinds of metals, gemstones, customizations, settings, and engravings. Customers can order jewelry based on each of these criteria at any given point in time. So, it's extremely important that the team at Brian Gavin Diamonds has an accurate way to keep track of all this information.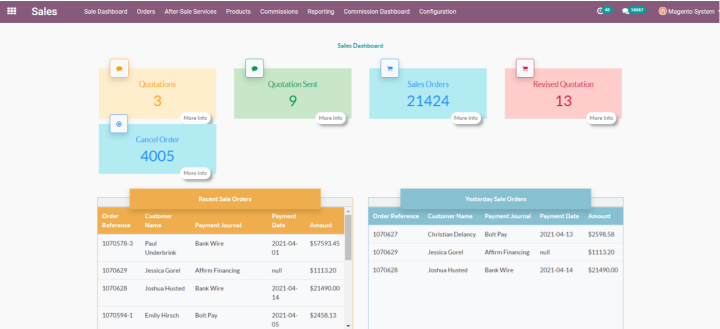 In order to better understand what their top selling products are, how much inventory they need, and what the overall demand is for their jewlery, Brainvire added reports covering all of these specific aspects, and more.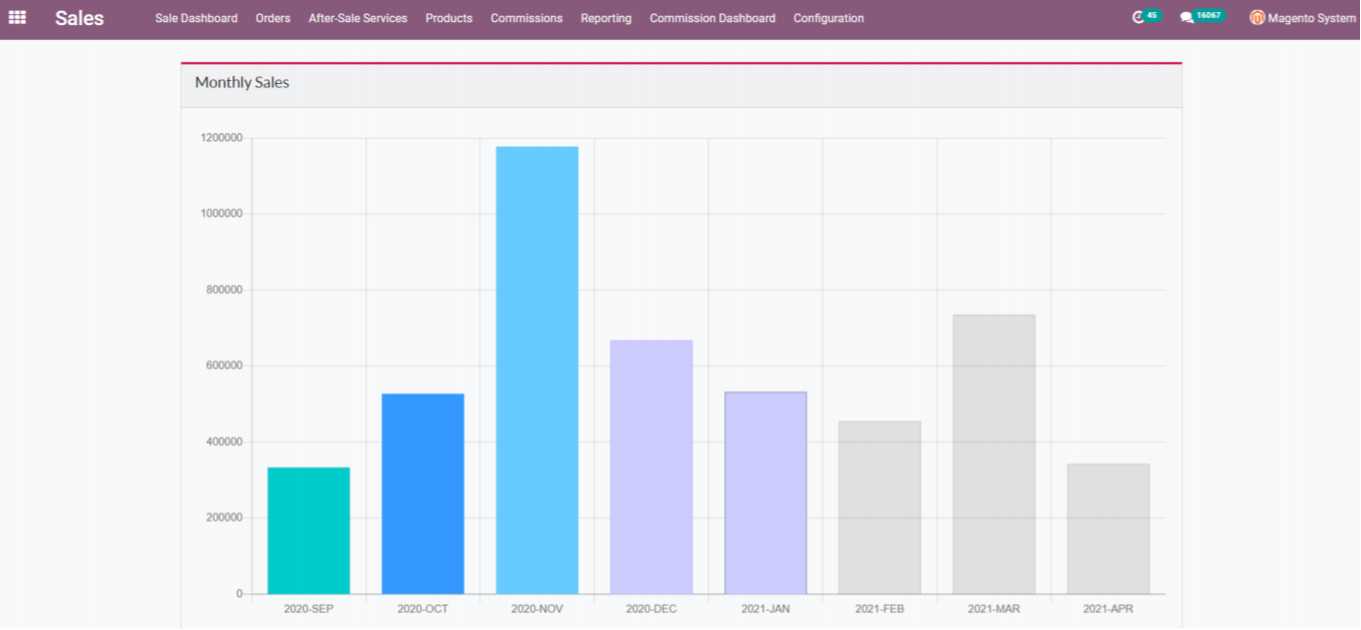 Detailed analysis

The sales team can now filter orders based on a time period (i.e monthly, every 15 days, weekly, etc.) or based on recent orders.
Similarly, they can also find reports for diamonds based on cut, clarity, weight, and cost. Customizations, such as engravings, settings, and custom products, are also specific tags for which reports can be generated.
Odoo streamlines Brian Gavin Diamonds

With Odoo, Brian Gavin Diamonds completely transformed their business operations (and invoicing) for the company. Since they have witnessed the advantages of Odoo firsthand, and how it provides much more than other CRM systems, they are now looking for a long-term partnership with Odoo.
Thanks to the awesome work done by the brilliant team at Brainvire, all functions at Brian Gavin Diamons, like accounting, reporting, billing and payments, and customizations, were all integrated into Odoo to provide a complete and transparent view of all ongoing business processes. The aim was to improve the overall customer journey, which was more than accomplished with Odoo.

Brainvire's Odoo ERP Consulting services will continue to play an integral role in helping the company seamlessly transition to Odoo.
About Brian Gavin Diamonds
Brian Gavin Diamonds is a Houston-based company specializing in crafting Hearts and Arrows diamonds, as well as selling loose diamonds. They also offer designer and custom engagement rings online, and always provide their customers with a Personalized Diamond Experience.
Learn more at briangavindiamonds.com

About Brainvire Infotech Inc.
Brainvire Infotech Inc. is a leading Gold Partner with Odoo. They specialize in helping companies increase their efficiency and optimize their internal businesses processes with innovative, modern solutions.

Learn more at brainvire.com