Orgocloud Enterprises Private Limited recently developed a website for Shatayu Polyclinic, and within just two months, the website has achieved impressive SEO results. The website www.shatayupolyclinic.com is now listed as number 1 on Google in India for the keyword 'Shatayu Polyclinic', and it also ranks on the first page for other relevant keywords such as 'Gynaecologist in Pimple Saudagar'.
This success can be attributed to several factors. Firstly, the website was built with a focus on search engine optimization, incorporating best practices such as optimizing meta tags, using appropriate keywords, and creating high-quality content. The website is also user-friendly, with easy navigation and a clear layout that makes it easy for visitors to find the information they need.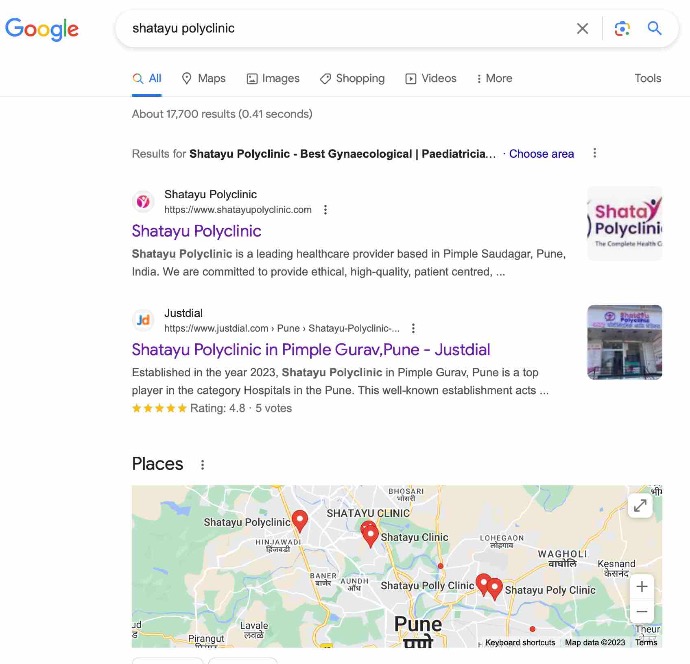 In addition to these factors, the website's success can also be attributed to ongoing efforts to improve its SEO performance. Regular updates and maintenance are carried out to ensure that the website remains relevant and up-to-date, while ongoing keyword research and analysis helps to identify new opportunities for optimization.
The success of Shatayu Polyclinic's website demonstrates the importance of investing in a high-quality, SEO-optimized website for businesses today. With more and more people using search engines to find the products and services they need, having a strong online presence is essential for businesses to succeed in today's digital age.
Orgocloud Enterprises Private Limited is proud to have played a role in the success of Shatayu Polyclinic's website, and we remain committed to helping businesses achieve their online goals through high-quality web development and digital marketing services.
We understand the importance of having a strong online presence, and we work closely with our clients to develop websites that not only look great but also perform well in search engine results. Our team of experts has extensive experience in web development, digital marketing, and SEO, and we use this expertise to help businesses like Shatayu Polyclinic achieve their online goals.
In addition to website development, we also offer a range of other digital marketing services, including social media management, email marketing, and search engine marketing. We believe that a well-rounded approach to digital marketing is key to achieving success in today's competitive online landscape, and we work with our clients to develop customized strategies that are tailored to their specific needs and goals.
At Orgocloud Enterprises Private Limited, we are committed to delivering high-quality services that help our clients achieve their online goals. We are proud of the success of Shatayu Polyclinic's website and look forward to continuing to help businesses across India achieve similar success through our web development and digital marketing services. Please contact us now for your website.